GeoSpatial Training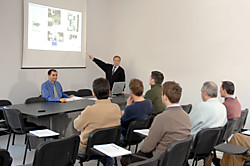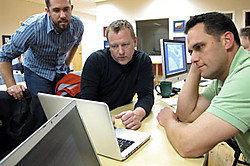 The proficiency of the end users who manage and work with any geospatial implementation, is crucial to its success. Geospatial users must know how to maintain geospatial data meticulously and also be able to update data in a hassle free manner. Based on their work role, it is crucial that they are efficient in working with desktop, web-based and mobile geospatial applications.
GeoICON is well aware of the importance of well trained staff and caters to this aspect of every project by providing customised geospatial training. Based on their needs our clients can choose from a list of well-structured training courses or ask for a special custom-made training course.
GeoICON employs highly qualified trainers with extensive hands-on experience using, Quantum GIS, PostGIS and ArcGIS products. Our trainers design training workshops to help all user's levels to improve their skills.
GeoICON's consultants have trained hundreds of geospatial users and specialists around our region.
Contact us at training@geoicon.com for further information and discussion on custom training programs. Also you can use our webform.