Virtualization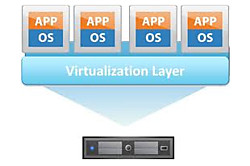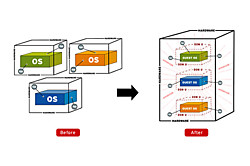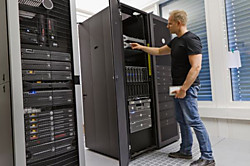 Many businesses and government agencies have recognized the advantages of virtualization in their IT environments. Virtualization can help businesses reduce equipment and operating costs, meet the needs of employees and customers more rapidly and respond to changing business conditions quickly and efficiently.
GeoICON's team of professionals have years of experience implementing various virtualization projects for different business needs, including server, application and storage.
Server Virtualization
Server virtualization allows a single physical server to be segmented into multiple virtual machines, each with its own operating system and resources. This can greatly reduce hardware costs since multiple server instances can run on a single piece of hardware. This in turn can reduce energy costs since fewer physical servers will be needed to meet a company's infrastructure needs. GeoICON's certified infrastructure team is experienced implementing in Xen and Citrix solutions in standalone or clustered configurations.
Application Virtualization
Most desktop and application virtualization models hosts the applications and desktop environments on centralized servers. Since the desktops and applications are centrally housed, the data can then be backed up more efficiently and deployment is quicker in case of client hardware failure. The desktop experience can be delivered to mobile devices and numerous client types including older hardware that would not normally be capable of running resource intensive applications or newer operating systems. Our infrastructure team has experience implementing Citrix desktop and application virtualization solutions that helped businesses leverage existing desktop equipment longer, and more rapidly deploy new applications and desktop operating systems.
Storage Virtualization
Storage virtualization allows multiple storage arrays to be combined into a redundant system that is centrally managed and can allocate disk space in logical units (often called LUNs) for use by both physical and virtual systems. GeoICON's SAN (Storage Area Network) engineers have experience working with leading storage vendors, including DELL and HP.
To know more about our Services, you can contact us through sales@geoicon.com or use our webform. Our consultants will attend to your queries soon.